Inspiration – the first step into creativity
Inspiration is the starting point for creativity in the Beyond Personal Mastery® model.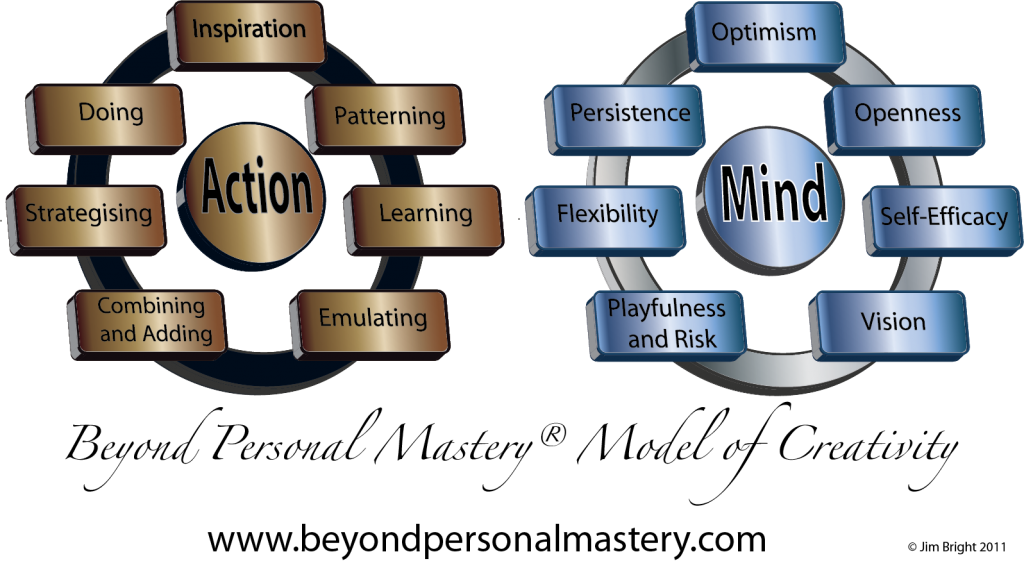 The inspiration step is all about getting ideas and experiences.  People cannot be creative, change or reinvent themselves unless they have some ideas or experience.
The mind map below some ways in which people can boost their inspiration.
So the first step in boosting creativity is to get people actively engaged in the activities like the following.
Inspired people…
Read
Blogs
Newspapers
Magazines
Books
Comic
Autobiography
Fiction
Biography
Watch
TV
Films
Other people
Nature
Turn up
Parties
Events
Conferences
Theater
Movies
Coffee
Clubs
Sporting Events
Join in
Conversation
Threads
Tweet
Blog
Email
Post
Converse
Connect
Try things
Think
Fail
Write
Blogs
Dreams
Diaries
Articles
Reflections
Ideas
Sports
Hobby
Arts
Travel
Feel
Confident
Energized
Connected
Relevant
Intrepid
The Psychology behind the idea – the lego metaphor and instance-based memory

In this step we are trying to lay down as many new memories as possible.   Imagine your memory like a large lego bucket.   Every new memory (experience you have) represents a new piece of lego to add to the bucket.   It stands to reason that the more pieces you have, and the more varied they are, the more different things you can ultimately make when you come to combine the pieces of lego.
This idea is consistent with instance-based models of memory like Hintzman's MINERVA II model that was central to my PhD on implicit learning.
I have produced little animations and a short movie to illustrate these ideas. Inspiration – the first step into creativity.