"Nothing will be achieved if first all objections must be overcome" said the wise Eleanor Roosevelt.   Objections prevent action.  Objections to our own actions are ultimately authored by ourselves.  Others may advise caution or object, but it takes us to take on board and own those objections to prevent us from acting.  It is our thoughts prior to action that can ultimately present a formidable barrier to action.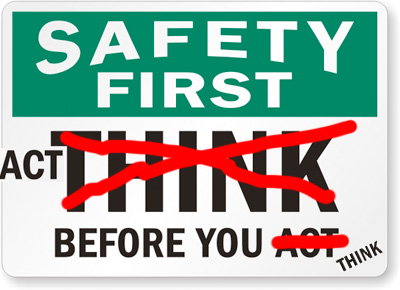 Thinking before you act is what we've been all brought up to do.  We are taught to think a failure to think first must ultimately result in reckless disregard for our own or others' well-being. The trouble is,  thinking before you act is not a fail safe process, because it is impossible to think through all the possible outcomes of a proposed action.
We cannot work out all the possibilities in advance, not only because there are too many, but also because our current vantage point may not reveal the complete picture.  I live near the coast, and if I am standing on one beach I cannot see the other one around the headland.  Even if I stand on that headland, where I can see both beaches, I cannot see around the next headland and what may be on offer there.  In other words, I might be missing out on a fantastic beach and I'll never discover it unless I am prepared to act.
For people stuck in their careers, there is every likelihood that their heads are full of confusion, cautionary thoughts and frustration.   Clarifying their thoughts as a lot of coaching and counseling aims to do, may be doing no more than giving them a sharper picture of the beach they are on.   They will never fully appreciate the other great beaches until they are prepared to act and move to a new vantage point. Act before you think!
I am more and more convinced that we've got our priorities wrong by so strongly privileging thinking before you act in career coaching. I become even more convinced when I hear the countless stories from clients who "fell into" satisfying careers, or got there by being in the right place at the right time. These people (and I think they are the majority) got where they are as much by acting before you think, than thinking before you act.
So in your own coaching practice, take action, and resolve to encourage your clients to action first, and then collectively reflect after.  Encourage lots of small steps and little experiments, encourage turning up to things, encourage connection with others without any clear agenda, encourage random acts of contribution to others, encourage your clients to go forth.