Chaos Theory of Careers Explained Interview with Jim Bright at Vanderbilt University
This is a short interview that Cindy Funk conducted with me at Vanderbilt University. It provides a great introduction to the Chaos Theory of Careers and how it can be used with clients.
In the interview I outline the basic ideas behind the Chaos Theory of Careers, emphasising the importance of change, complexity and chance in most people's lives. It means coaches, counselors, advisors and others need to consider whether we are doing enough to prepare our clients to cope with the continual and unexpected changes that they will experience. I also raise the issue of encouraging clients to look at their life with the aid of multiple narratives or perspectives in order to appreciate the complexity of themselves, rather than trying to rely on overly simplistic ideas about themselves that are likely to have only short-term and limited value.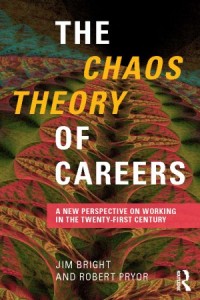 Ideas about complex changing patterns, non linearity or small steps leading to large changes and vice versa are discussed. I also introduce the notion of chance events in careers and explain how these can be leveraged and the link to Happenstance Learning Theory. It raises questions about how well we help our clients with change, what we understand about the nature of change and how we can survive and thrive on change.
I invite you to watch this short interview to get a good introduction. Then check out the many other posts on this blog that address different aspects of the Chaos Theory of Careers. There are plenty of other resources to support your practice using this approach including a webinar series, a book, card sorts, two online tests and many exercises. Enjoy and let me hear your thoughts via the comments section! cheers Jim
embedded by
Embedded Video