How do people react to change? Some Facts and Figures
So how much do we know about people's reactions to change? I've been collecting reactions to change of individuals in my coaching and research for several years. The data below come from over 600 responses to my online tests (except where indicated) – the Change Perception Index and the Luck Readiness Index.
These stats about change – may surprise you!
1. One in three people would avoid change if they could.
Would you normally avoid change if you could?
If you said yes, then you'd join the 34% of respondents who agreed or completely agreed with that sentiment.
2. Over 76.51% of people said they could be fearless in a situation if they need to be.
Would you be fearless if you needed to be? Are the majority merely displaying bravado? Have you seen most other people being fearless?
3. 11.7% of people were ambivalent or actively said they did not enjoy learning new things
How many people do you know who are not interested in learning anything new? More or less than 1 in 10?
4. Goal setting as a way of creating change seems to be less popular now that anytime time since the beginning beginning of the previous decade.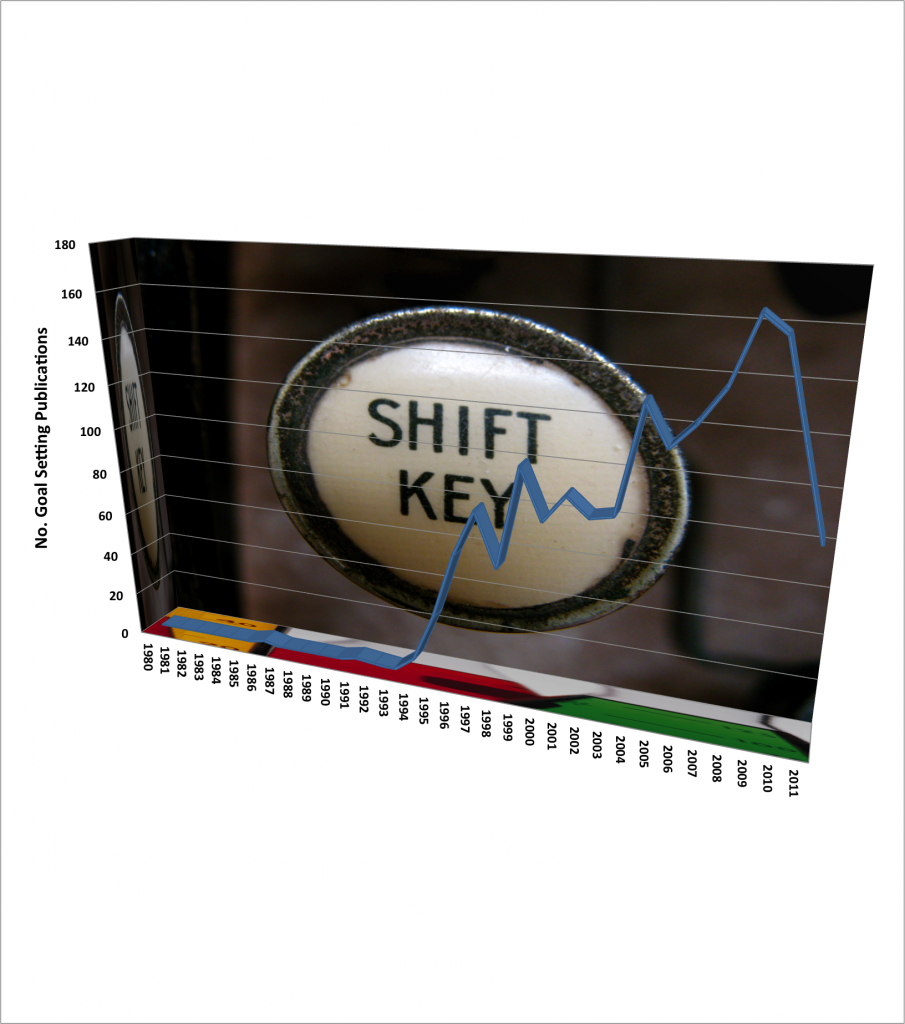 Graph shows a decline in publications about goal setting since the Global Financial Crisis – are we over goals?
5. Almost 1 in 3 people say that if they do not see immediate results for their efforts they usually give up and do something else.
32.2% say they do not persist if they do not see immediate progress, a further 21.3% are ambivalent. Less than half of people say indicate they would persist in the face of a lack of immediate progress.
What does this say about how we structure change programs – either personal or organisational? What does this say about learning experiences?
6. Just over two thirds of people do not find study interesting.
Only 37.5% of people disagreed that study was boring.
What does this say about how our learning and training is structured? What are the implications of this for a dynamic, flexible workforce of lifelong learners?
7. Almost 1 in 4 people say they cannot accept failure if they try something and do not succeed.
21% disagreed that they can accept failure when they do not succeed. A further 16.75% were ambivalent about their ability to accept failure – that's 37.75% who have some degree of difficulty accepting failure.
How does our fear of failure prevent us from changing, studying, learning and transforming?
8. Almost two thirds of people say that uncertainty about the future worries them
62.71% of people agreed that uncertainty about the future worries them. Only 20.79% said they were not worried about the future.
How does all this worry translate into barriers or catalysts for change? How can we make people more at ease with uncertainty?
9. Almost 9 out of 10 people believe their lives will be very different in five years time.
86.44% of people agreed their lives will be very different in 5 years time. Only 4.52% disagreed.
So nearly everyone believes their lives are going to change. What does this mean for change programs, education, training? How can we leverage this expectation?
10. Less than half agree they have a clear picture of what they are going to be doing and how they are going to get there.
46.55% of people agreed they had a clear picture of their future and how they'd get there. 30.27% definitely disagreed they had such a clear picture, with the rest ambivalent.
So most people think their lives are going to change, but most dont have a clear idea of how they'll change.
What do these insights into change tell us about change programs, helping individuals or organisations change? What can we do to make study as a method of change more attractive? How can we design change programs to deliver early progress and then sustained progress? How can we help people embrace uncertainty and recognise the value of failure? How do we reconcile the 1 in 3 who would avoid change if they could with the 9 out of 10 who see change as definitely present in their future lives?