I want to share a resource I've been working on over the last week called the Edge of Chaos Posters.   I've designed a couple of posters that try to illustrate the idea of the relationship between certainty and uncertainty.
I decided to select words that in some way illustrate the ideas of certainty and uncertainty, order and disorder.   I decided I wanted a complete A-Z of words which was something of a challenge.   I determined to put words redolent of certainty on the left hand side and words indicating uncertainty on the right hand side. I found it easier to think of or find words for certainty. It was more challenging to find words for uncertainty. In fact often, just like the word "uncertain" – the uncertain has to make do with a modification of a word about certainty.  This I find intriguing.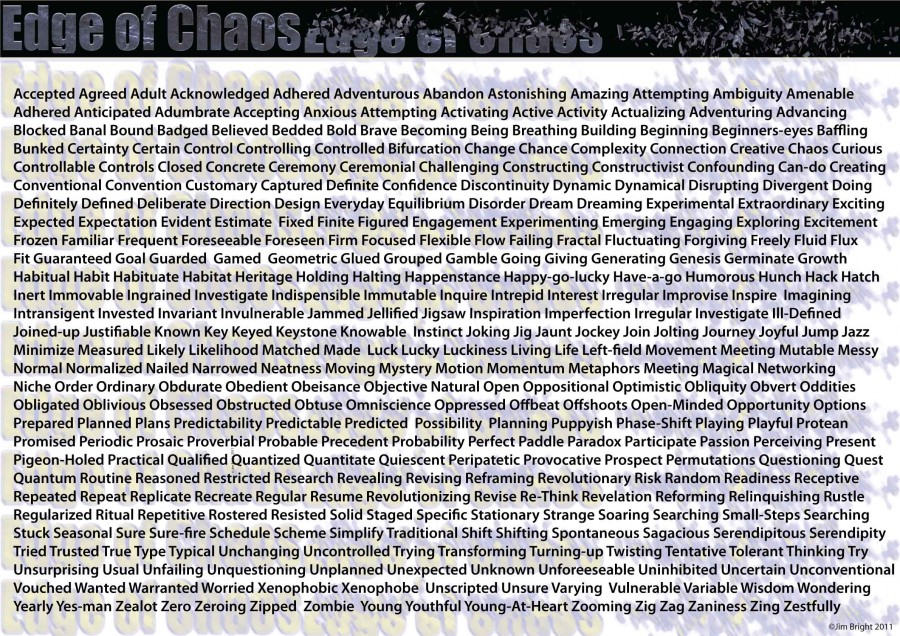 The poster above is the "Yellow" version. Click it to download a 6Mb PDF version.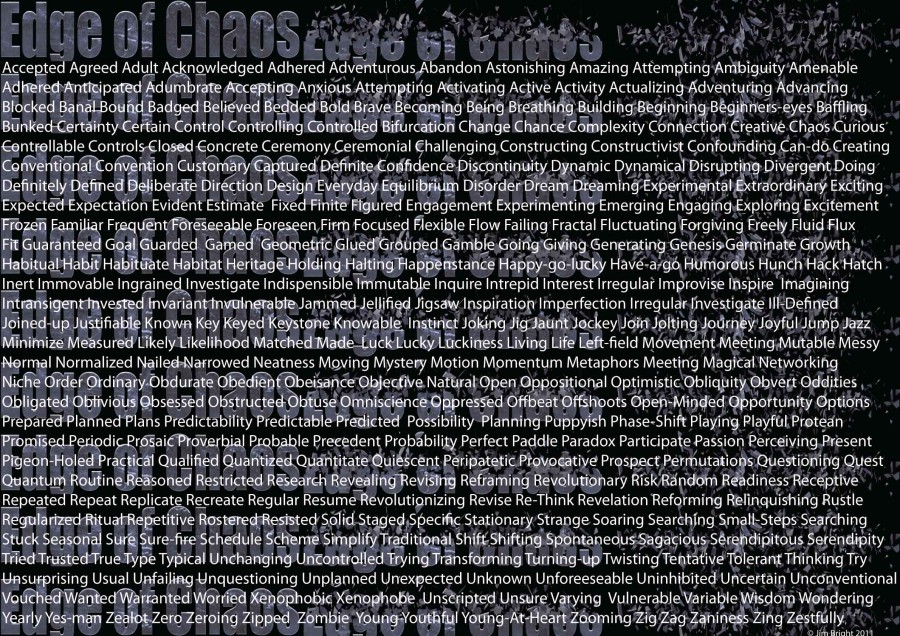 The poster above is the black version. Click the poster to download an 8Mb PDF version. Note you may have to right-click to save these posters to your computer, or look in your downloads folders, or even look in Acrobat as different browsers do different things.
All the words on these posters will be familiar to you.  On the left there are words like Plans, Goal, Control, Prepared, Stuck. Similarly on the right there are words like Exploring, Change, Serendipity, Vulnerable and Magical.
The purpose of these posters is to help people appreciate that a full life needs all of these words.  However when we are feeling confused, sad, unsure or vulnerable we tend to retreat into what we often see, or are encouraged by others to see as reassuring, and somehow more legitimate, more proper left side words.  However, this can only provide short-term succor. Sometimes we believe that all we need are the right-hand side words, but these alone wont do either.
A full life requires all these words – order and disorder, chaos and certainty, strength and vulnerability.
There are lots of uses for this poster.  You can circle the words you identify with – are you more left or right sided?  You can use words on the left to help you strive toward words on the right. You can use words on the right to help you arrive at words on the left. You could even measure new ideas, initiatives and policies against these words – is a balance of left and right achieved?  The possibilities are endless.
You might be interested in this related post on Why people don't get uncertainty
You can download low-res posters in yellow or black and white by clicking on their images above – they are 2381 x 1684 pixels, but they are still large files (6Mb and 8Mb).  If you want high-res versions, you'll need to email me as these are very big high quality files suitable for making large posters.  I am happy for you to use them with acknowledgement. I'd love to know what you make of them.