I got a gift from Brené Brown the other day.  Actually you could call it a gift squared, because the gift was The Gifts of Imperfection, her popular and really very very good book. Brené, unbeknownst to me, offers prizes for contributions of comments to her blog. My name came out of her Houston Hat, or however names get picked in Texas, and her book arrived soon after.  A gift squared in Brené's thinking is quite fine, because being squared is a lot better than holding onto being cool and in control.
Having seen her Ted talk I was eager to read more, and avid readers will know I have referred to her ideas in my blogs about living on the edge of chaos.
I want here to share my reaction to her book, and how I feel that it has plenty to offer to people considering their career development, or those professionals that are helping such people.  Indeed, Brené includes a chapter on Cultivating Meaningful work.
What has struck me about a lot of her work here is how it provides a complimentary and reinforcing perspective on many of the key themes in the Chaos Theory of Careers.   For instance, in her chapter on Intuition and Faith, she writes: "In my research, I found that what silences our intuitive voice is our need for certainty.  Most of us are not very good at not knowing. We like sure things and guarantees so much that we dont pay attention to the outcomes of our brain's matching process". (p.88). It is a theme of the CTC that uncertainty is inherent in all that we do, and therefore learning to live with, or in Brené's terms learning to "lean into" uncertainty is an important thing to do.

There is a theme in much of her work about insecurity, lack of self-efficacy, anxiety and worry.  Brené researches Shame and more recently what she terms "Wholeheartedness" which she argues is a process we cultivate through Courage, Compassion and Connection.
Now interestingly I misread this, changing "Compassion" to "Conviction" when I was playing around with triangles and her ideas on my iPad (see first figure below).  What caused me to do this? It was not a lack of thought about the triangle – I carefully chose red- the colour of the heart to represent Courage – a word that comes from the Latin "cor" meaning heart. Connection I saw as green, a colour used to denote the environment – so green is about connection to those around us.  I put Conviction in yellow – a colour representing the heat of a flame – a standout light, beacon, intensity.
By why did I mistake Conviction for Compassion? I suspect because I am drawn to and have been trained to privilege the cognitive over the emotive, and conviction to me is more closely related to ideas, and compassion is more closely related to emotion, but Brené would probably want to say it is also a process, and I think that is correct.  What it means is that I have to work hard on being wholehearted, and that Compassion is a key component of that that perhaps I need to work on more.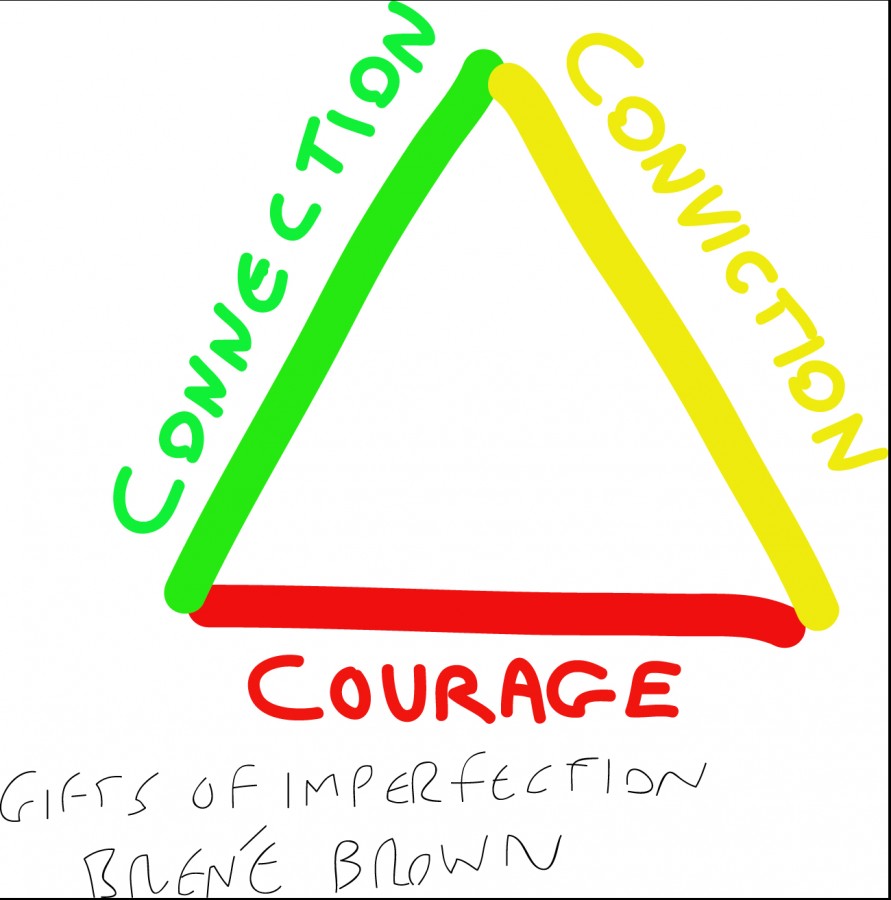 And this is the kind of thinking that Brené Brown's book provoked in me.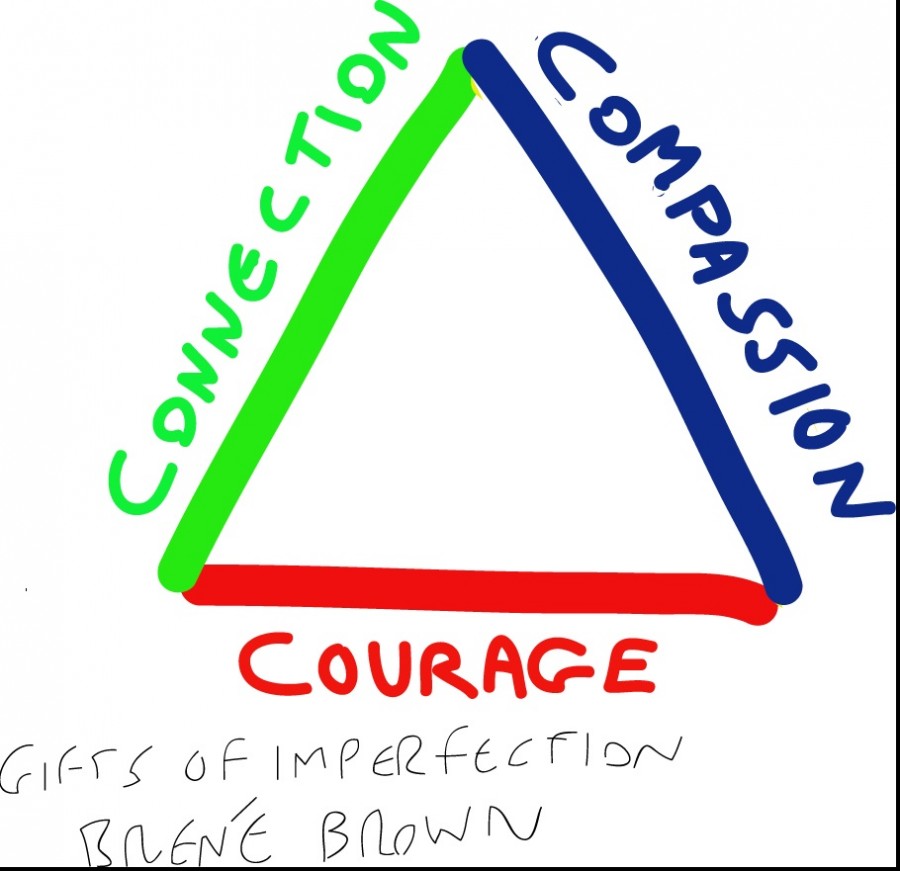 So here is my "correct" triangle (above) of the 3 processes in being Wholehearted and I am happy to share my mistake – no shame thoughts there! This time I chose blue.  A synesthite I know (a person who has a condition whereby they "see" numbers and words as colours) told me that "Compassion" is "black", but I decided on Blue.  This is because I have recently become reacquainted with Southern Blues music, and in my life more generally I have begun to welcome and like exploring the blues and blue moments.  It is ok and indeed normal to be blue from time to time.  It is nothing to be afraid or ashamed of.  Compassion for Brené Brown means not only showing that compassion to others, but also, and especially to yourself.
Each of these processes are intimately linked with Career Development.  I have written and spoken before about continually summoning courage to try things out, take risks, live with uncertainty, be bold enough to fail, to reach out and connect or network.  All of these activities also require self-compassion.  Whether it is the overwhelming majority who fail to put achievement statements on resumes because they feel they haven't achieved anything, the job seeker who writes cover letters that start by pointing out what attributes they do not have, or the perpetually scared and frustrated person who dares not take a risk because they feel that are not good enough to do so, or too weak to deal with any failure – all these people are being too hard on themselves, and not living wholeheartedly.
Perhaps for some, Brené's message that our love for others is limited by our love for ourselves, may be confronting, but I like her quote (p61) from Leonard Cohen "There is a crack in everything, that's how the light gets in" (from "Anthem").  I found myself relating her concept to that of fractal patterns, the self-repeating pattern at every level.  If there is no repeating pattern of love in our patterns of ourselves, then how can love patterns be repeated in our patterns toward others? There is a disconnect, a break in the pattern. Those external patterns of love are not wholehearted, not fully authentic expressions because they do not fully belong with those inner patterns.  To produce that scalable pattern of love, love has to be in the internal or self-referential patterns.
With a nod to Koch's Snowflakes (fractal patterns of snowflakes, see the example in my youtube movie Where will you be?) I produced this kind of like a fractal picture of triangles within triangles – the outer one, the limiting one being self-love, and the inner ones (and they can be infinite, are love for others).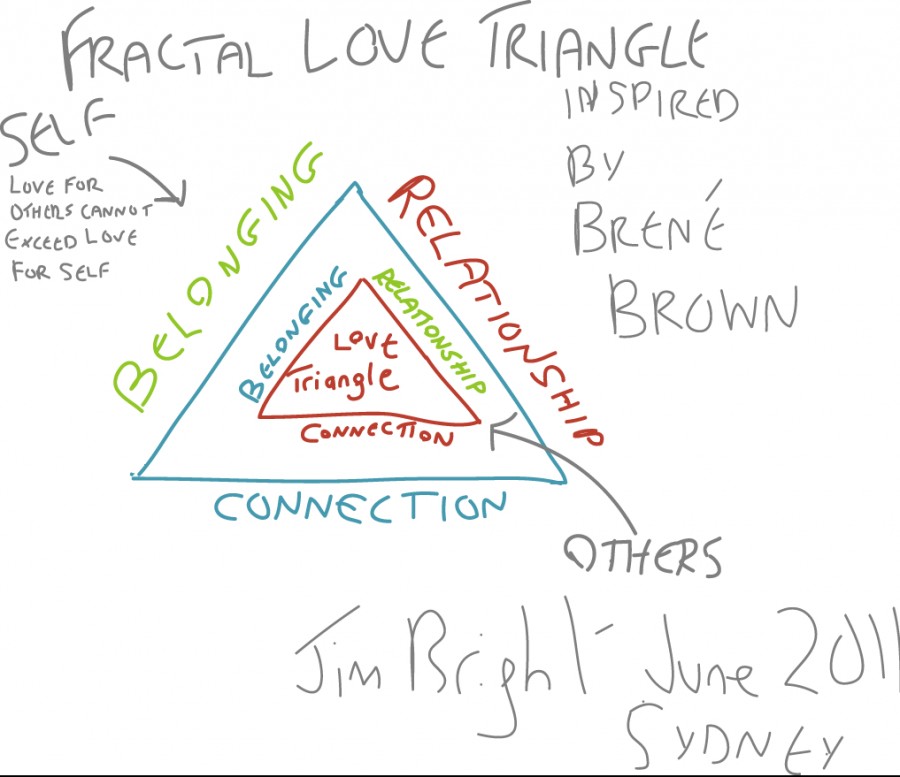 Again what I love about Brené's ideas are that she stresses that dynamic nature of these processes.  It is the practice of connection, belonging and relationship, the practice of love that matters.
Again I see the very obvious links to career development and the Chaos Theory of Careers in particular in this formulation.  The CTC states that we are intimately and massively inter-connected to others. It is the acknowledgement of this that is crucial for effective career behaviour. It has obvious links to relationship, and all work is relationship.  Put simply you cannot work without others.  Even an assassin needs other people!
There is also an obvious theme of limitation and how we can live within and be stronger for acknowledging our limitations, such as limits in our ability to control, predict, surpass, achieve, know and do.  In the CTC, the first three attractors (Point, Pendulum and Torus) describe varying forms of self-limitation in the pursuit of control, prediction and perfection, whereas the last – the Strange Attractor, describes an open system that is paradoxically vulnerable to transformation and change yet at the same time more authentically resilient. It is also more dynamic.  These ideas work well with Brené's outlook, and I like that.
The aspect of Belonging resonated strongly with me.  A good friend of mine, the jazz musician James Morrison who is accustomed to performing in front of large audiences, once had to perform live in front of a billion people to open the Sydney Olympic games with a spectacular fanfare.  I asked him about that experience, I was curious to know whether he was nervous about playing a bum note.  His answer was "when you have a strong feeling that you belong where you are, the anxiety recedes and there is no question of playing a bum note".   I have personally found that idea extremely powerful when it has come to moments in my life where in the past I might have succumbed to a panic attack, such as addressing large audiences.  If you have a strong sense of belonging, then the worry about "I'm an imposter, get me out of here" can be replaced with "they have entrusted me to do this, I can do this, so the questions that remain are what will I do and how will I do it".
Having a sense of belonging allows you to focus your energy on doing your best.  The same goes for a job interview.  The employer has invited you to the interview, so they have given you a strong signal saying "you belong in this interview".  It then becomes not a question of being found out or examined, but rather mutually exploring a subject of mutual interest – they want to fill a position and so do you!
In Career Development, a lot of our work as career coaches is around helping people to appreciate their sense of belonging. It is also about helping people recognise the signs that they belong and being able to use that data to inform their decisions about career direction.  Finding a job that you love can be informed by considering Belonging, Connection and Relationship.
Connection, Compassion and Courage strike me as the appropriate responses to both ourselves and a world that is characterised as per the Chaos Theory of Careers as Complexly Connected, Changing, and Uncertain.  We cannot fully control and predict our careers or lives.  We are not perfect and no career or job is either, but we can make the most of our gifts of imperfection.