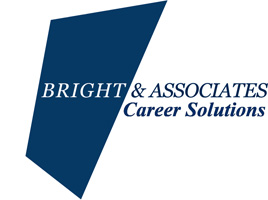 In this edition:
Leadership: It's chaotic!

Postgraduate Courses in Career Development and Educational Leadership at the Australian Catholic University

Upcoming training courses and conferences

New Books

Access to research on Career Development via ResearchGate

Conferences and Meetings
Leadership: It's chaotic

In 2015 and 2016 as part of an Educational Leadership program presented by Dr Jim Bright, leaders were introduced to models of leading change derived from complexity, chaos, innovation and creativity. During the program the leaders were surveyed using the Bright and Associates, Complexity Awareness Leadership Scale and the Change Perception Index. The results are available in this report.

A couple of highlights from the report...

From a sample of over 300 leaders, only about a quarter had a clear picture of what they were going to be doing in the future and how they are going to get there.

This could be interpreted as somewhat shocking, or alternatively a realistic appreciation of the complexity and fast paced changing world in which they lead.

Overwhelmingly the leaders said that an unplanned event had a significant impact upon their organisation. This is strong support for leadership models and training to incorporate approaches to leading in conditions of uncertainty. It supports the Chaos Theory of Careers approach.

Read the full report and results this report.

Conclusions

Leadership training can result in significant attitude change in leaders and it can help them develop more positive and productive approaches to leading change. Change Leadership models based on Complexity, Chaos Theory of Careers, Innovation and Creativity have proven to be effective in preparing Leaders to initiate change in their organisations in an environment of continual change, complexity and uncertainty. Read the full report and results this report.

You can read more about Chaos Theory of Careers approaches to leadership, change and creativity, by downloading this recent chapter (1.9Mb).

For a background paper containing more information about using these scales, and how to purchase licenses click here

Postgraduate Courses in Career Development and Educational Leadership at the Australian Catholic University

Australian Catholic University offer a range of excellent and engaging postgraduate courses related to Career Development and Educational Leadership (amongst many others!).

It is not too late to enrol in the Graduate Certificate in Education (Career Development). From 2017, more of the course will be delivered online.

This 4 unit course is available to all graduates, and the term "education" is used inclusively to include adults in organisations as well as those in schools or universities. Students with backgrounds in HR, Psychology, Rehabilitation, Coaching, Private Practice, Career Counselling, Universities, Elite Sports, and Careers Teachers commonly enrol (and graduate) from this Careers Industry Council of Australia (CICA) endorsed program.

More details about the course can be found here.

My 3-day course has ACU approval to be a credit against one subject in this program (see below).

The ACU Master in Educational Leadership Course provides a values underpinned, research driven, practically orientated program designed to support the capabilities of current and aspiring educational leaders wishing to enhance their leadership capacity within the context of their professional settings and the Australian national standards. Details here

Only dates announced for 2017 at the time of publication- do not miss out.

Presented by Professor Jim Bright, BA, PhD, FAPS, FNICEC, FCDAA

This course provides a grounding in contemporary theory and practive in career coaching, counselling and assessment. Covers major and approaches as well as newer approaches such as the Chaos Theory of Careers. It provides an introduction to the theory and practical administration and interpretation of psychometric tests in career development.

Attendees are provided with a generous collection of resources including a workbook, several books, and full sets of test materials. Typical attendees include Coaches, Career counsellors, HR professionals, Rehabilation professionals, Teachers, Sports Welfare Officers and Psychologists.

This course can provide a full credit against the subject EDSS612 Career Assessment, Theory and Job Search Advising at Australian Catholic University. This is one of 4 courses that comprise the Career Industry Council of Australia (CICA) endorsed Graduate Certificate in Education (Career Development) taught in Melbourne and Sydney. Delegates must elect to complete and pass the relevant additional post-course assessments. Entrance to the ACU course is for those with Graduate level qualifications and is at the sole discretion of ACU.


Using the Change Perception Index and the Luck Readiness Index in coaching and counselling change

It is now well established that chance events are central to the career experiencesof most people (Betsworth & Hanson,1996; Borg, Bright & Pryor, 2006; 2014; Bright, Pryor, Chan & Rijanto, 2009; Bright, Pryor & Harpham 2005; Bright, Pryor, Wilkenfeld & Earl, 2005; Hirshi, 2010; Krumboltz & Levin, 2004; Neault, 2002; Patton & McMahon, 2006). Luck Readiness is defined as recognising, creating utilising, and adapting to opportunities and outcomes occasioned by chance. The Luck Readiness Index (Pryor & Bright, 2005b) assesses eight dimensions: Flexibility, Optimism, Risk,
Curiosity, Persistence, Strategy, Efficacy, and Luckiness.

The Luck Readiness Index (LRI) has proved to be useful in measuring people's ability to use unplanned events to develop creative responses to career problems of people who may feel "stuck" or trapped in their circumstances. It has also proved to be valuable in helping those who feel threatened by chance events, especially those seen as beyond their control. The LRI has also been used in career development research (e.g. Borg 2014, 2015; Lengelle, Meijers, Poell, Geijsel & Post, in press).

The Complexity Perception Index (CPI) (Bright & Pryor, 2005b) is a psychometrically
constructed inventory designed to measure an individual's typical reactions to the different implications of change as a consequence of complexity. It is designed to gauge people's responses to the following key chaos concepts: acceptance of Continual Change ; need for Control/Certainty; Non-linearity; Phase Shift; Emergence; Goal or Point attractor; Role or Pendulum attractor; Torus or Routine Attractor; Strange or Complexity Attractor; and Purpose/Spirituality. More complete descriptions of these dimensions can be found in Bright and Pryor (2005c).

For a back ground paper containing more information about using these scales, and how to purchase licenses click here

Try out these tests here
New Book Online Job Hunting
My friend and colleague at the University of Derby Professor Tristram Hooley (@pigironjoe on twitter) and my friend past co-author David Winter from University of London Careers, got together over a beer at St Pancras a couple of years ago, and what emerged from that meeting is our newest book!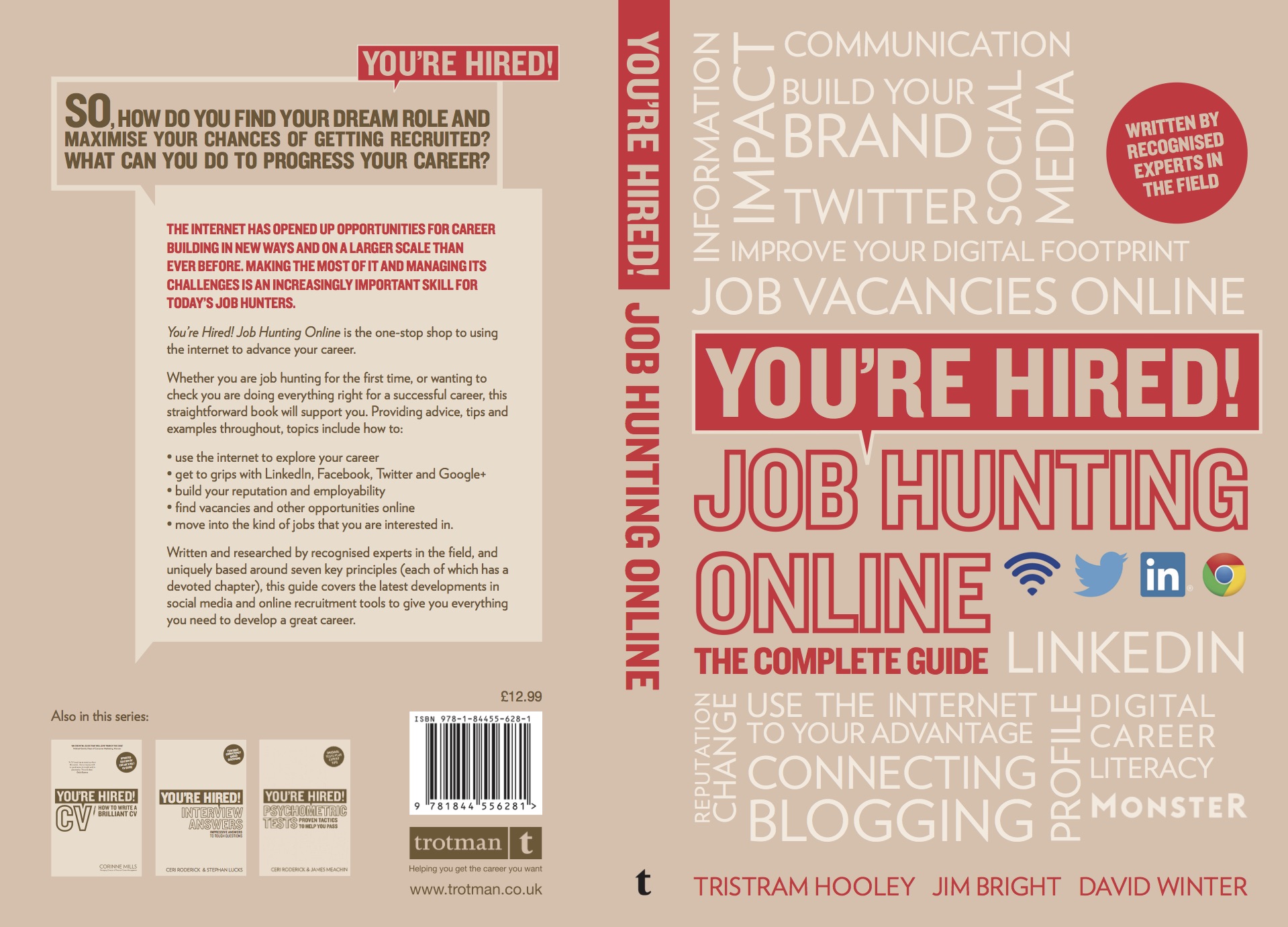 You're Hired! Job Hunting Online is the one-stop shop to using the internet to advance your career. Whether you are job hunting for the first time, or wanting to check you are doing everything right for a successful career, this straightforward book will support you. Providing advice, tips and examples throughout, topics include how to:

use the internet to explore your career

get to grips with LinkedIn, Facebook, Twitter and Google+

build your reputation and employability

find vacancies and other opportunities online

move into the kind of jobs that you are interested in.

Written and researched by recognised experts in the field, and uniquely based around seven key principles (each of which has a devoted chapter), this guide covers the latest development in social media and online recruitment tools to give you everything you need to develop a great career.
Reviews
"As a career coach I have been searching for a book on on-line job search to recommend to clients and now I've found it. The book is well structured and easy to read. You will find plenty of good advice. I particularly like the chapter on personal branding which is a key thing for job seekers but one that most seem unaware of" Elaine
"This book provides the complete guide for job seekers and career developers to maximise their online content to entice potential employers. As a Careers Guidance Practitioner I have been looking for this type of book for a while to help raise client awareness of the importance in investing time to develop online content. The layout is user friendly and is not written in ICT jargon, nor does it assume prior knowledge." John A
Recent Research
Bright, J. (2015). If you go down to the woods today you are in for a big surprise: seeing the wood for the trees in online delivery of career guidance. British Journal of Guidance and Counselling. 43(1), 24-35.
Arguments about online delivery of career development are too frequently couched in polarising terms setting traditional face-to-face guidance practice against online
systems. The focus has been on the alleged dehumanising impact of technology and the speed, economy and efficiency of online systems. The possible synergies delivered by the appropriate integration of online systems into career development need exploring. The potential of eguidance, elearning, social media and online information and assessment systems has been insufficiently explored. The user experience has been overlooked, despite evidence that user-interface issues and usability are critical factors in the effectiveness of online systems. The application of artificial intelligence remains largely under-researched in career development. The potential for online systems to assist individuals respond to their chaotic careers has yet to be adequately addressed.
Read the whole paper here
some of my other work from the vaults!...
Archetypal narratives in career counselling: a chaos theory application by Robert Pryor and Jim Bright. International Journal of Educational and Vocational Guidance, 2008
This paper seeks to extend previous work on narrative career counselling
by considering the role of plot within clients' narratives. Seven archetypal
narratives derived from the work of Booker (2004) are introduced that represent
systems of meaning to provide insight into how individuals interpret their experience. These plots can be understood within the Chaos Theory of Careers (CTC) in terms of the attractors contained within the client narratives. Identifying the plots provides new insights into the nature of career development difficulties and how client stories may be reformulated.
Read the whole paper here
Interesting Career Conferences
Asia Pacific Career Development Association Conference
May 22-25 . Ateneo de Manila University, Philippines
(with a keynote by Dr Jim Bright!)
Career Development Association of Australia Conference, Brisbane, Australia
International Association for Educational and Vocational Guidance International Conference, The next IAEVG conference Madrid, November 15 – 18, 2016
APCDA Conference, Tsinghua University and New Elite Development Plan, Beijing, China May 16-18 2018
NCDA Conference, Orlando, Florida, USA June 28-30 2017
Cannexus, Ottawa, Canada, Jan 23 - 25 2017
British Columbia Careeer Development Conference March 27-28 2017
You are receiving this newsletter because you subscribed to our Newsletter.
Unsubscribe instantly.[Unsubscribe]