How long has there been serious interest in goal setting?  You might be forgiven for thinking it has always been a key approach to changing human behavior.  However according to PsycInfo (the largest and most authoritative database on published psychological research), between 1900 and 1980, a search of this data base on the terms "goal setting" yielded only 39 publications.  The first being in Harry Spillman's chapter Tides of Life in Personality: Studies in Personal Development. New York: Gregg Publishing US.
The 1980s were not much better, in fact they were worse than the average of 0.5 a year, with only 2 publications (both in 1986).
The 1990s were when goal setting really started, well, kicking goals. A whopping 335 publications turned up in the search – more that the previous 90 years combined.
But it was the 2000s when we became totally obsessed with goal setting as the answer to just about everything, a whopping 1168 publications came out about goal setting.
However, something interesting may be happening.  Have a look at the graph below that shows the search results for "goal setting" across all types of publications by year.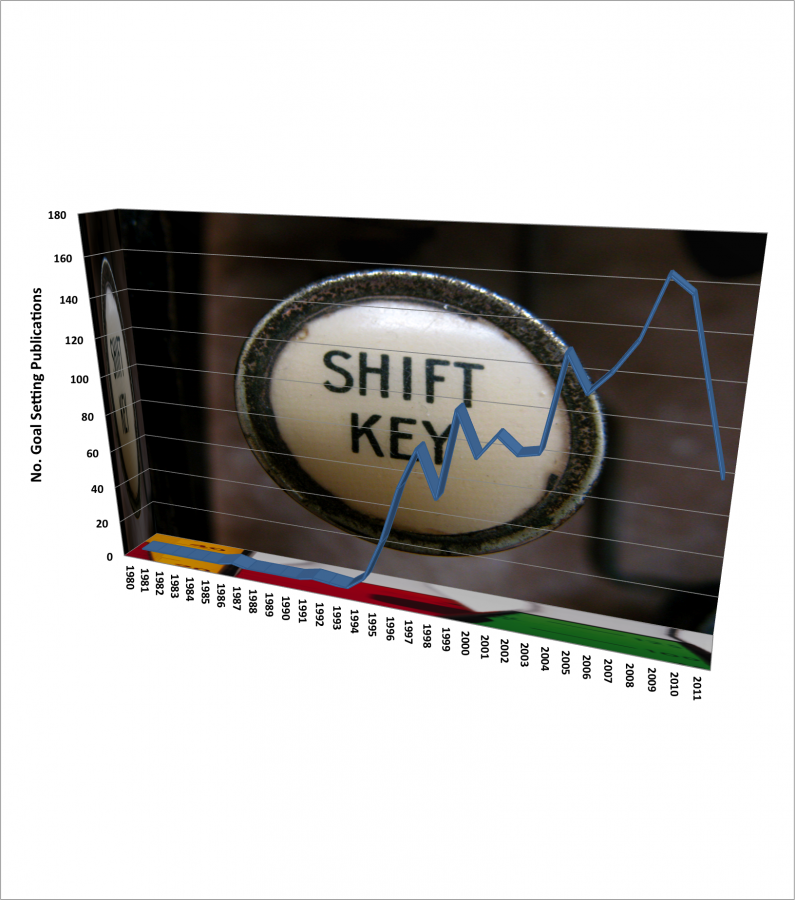 It seems that goal setting publications peaked in 2008 and have been in decline ever since.  (Note the figure for 2011 has been adjusted by taking the figure produced at the end of September, dividing it  by 9 to get a monthly figure and multiplying that by 12 to get a comparable annual number – given the dramatic drop off, this probably over-estimates the true figure for 20110.)
There are a few intriguing things here.  Firstly, are we over goal setting?   Regular readers will appreciate that from my theoretical perspective of the Chaos Theory of Careers, goal setting can be seen to be limited in its efficacy, especially for longer-term behavioral change (because complexity and change serve to move or obliterate the goal posts) this is not an unwelcome thing if it turns out to be true.
Secondly, is it the case that goal setting has been in decline since the GFC?  The GFC really hit in mid to late 2008 (see graph below of S&P 500 since 2006).  2008 was the peak year for goal setting papers, and 2009 was not far behind.  However journals and other forms of academic publications and outputs (like theses) tend to reflect work that was done or submitted 2 or 3 years earlier.  So there is likely a lag effect in operation here.  And sure enough if you look at 2009, and 2010 and almost certainly 2011, we see an exponential drop off in papers on goal setting.

So, is it a little like the financial markets, that people are beginning to appreciate that the world is more uncertain and changeable than we realised, and that maybe we need techniques that are not so firmly rooted in the idea that the future (goal) is relatively unchanging and predictable.
It is truly fascinating, and reminds me of the Peak Oil debate, have goals reached their zenith – have we reached a tipping point on goal setting? Is this just a temporary blip? Is goal setting so accepted there is nothing more to say, or is it the case as I am hypothesizing that we are beginning to appreciate goal setting as useful, but an over-simplified response to complex and changing problems?  Or is it simply turbulence in the numbers?
Who knows for sure, but this graph certainly makes interesting reading to me.  I guess we must wait to see how it emerge over time, and on that chaotic and complexity-laden bombshell, I shall leave it to you to ponder!
Note: Psycinfo is "Unrivaled in its depth of psychological coverage and respected worldwide for its high quality, the database is enriched with literature from an array of disciplines related to psychology such as psychiatry, education, business, medicine, nursing, pharmacology, law, linguistics, and social work" according to Proquest.